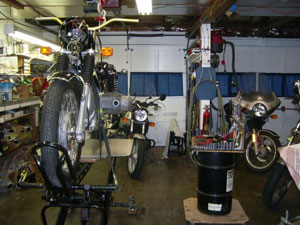 The main stay of keeping your Airhead humming is Service – catching a problem before it catches you on the road. We call this "Preventive Maintenance", and we are a firm believer in the concept, offering:
Standard Service and Tune-up – where, as we are able, we allow the customer to get involved with the process. The logic is simple: There are no "secrets" involved in maintaining your own motorcycle, and we would far rather it was done right by the owner than have costly mistakes made or a rider stranded on the road unnecessarily.
Repairs – Minor and Major – Axle to axle, we've repaired just about everything involved in an Airhead.If we can't handle it, we know who can – and we're not too proud to refer a customer or sub- contract the work.
Fabrication and Alteration – Be it welding, wiring or fabricating a part, this is one of our specialties. A good example is the problem of the "hidden foot brake pedal" on later model Airheads. We fabricate an extension that allows the rider's foot to avoid being trapped between the pedal and carburetor. Another area that consistently gets owners in trouble is proper wiring of accessories. The proper sized wiring, right connectors and use of relays can mean the difference between dependable operation and a burned switch or wiring harness!
Bead Blasting – Whether it's cleaning off years of road grime or bringing back the luster of those beautiful BMW engine and drive train castings, our blasting cabinet handles it all.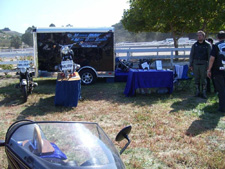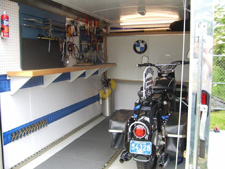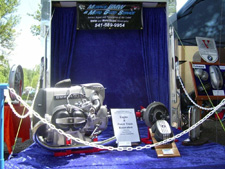 The "Murph Trailer" doubles as emergency roadside service or as a display at Rallys.